Anatol Cherepashchuk (at the picture with his wife Nina)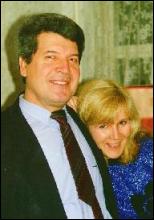 To see a Russian version of this page, click here.

(Professor, Director of SAI. Graduated from the Moscow State University (MSU) in 1964, Ph.D. 1967, MSU, Dr. of Science 1975, MSU)

A member of IAU and EAS, IAU committees No 42, 27.

Fields of interest: Stellar astrophysics, close binary systems, inverse problems in astrophysics.

---
Send your mail to: cher@sai.msu.su.